What are journal reports?
Journal reports are detailed visit reports that are submitted to you by pet care technicians who provide care for your pets. After each service is complete, the assigned pet care technician will write up and submit a journal report for you to view. You will be notified of this new pet care journal via email and a push notification right from our app (as long as you have the app downloaded!).
In each journal reports you receive, you will see a breakdown of the following:
Details: Date, Service, etc.
Checklist of events: Potty, Meal, Medication, etc.
Visit photos
GPS Map (see more below)
Conversation (notes)
How can I leave a comment/rating on a journal report I've received?
You can leave a rating on a journal report (on a 5-star scale) right below the map, and if you'd like, add additional comments along with your rating. You can also comment on the journal report all the way at the bottom of the report. Here, you can simply say thank you to the pet care technician for the work they've done, ask a follow-up question, or anything you wish! Nonetheless, this is how you can be in direct contact with the pet care technician who provided the service.
Make sure to click the Post button to make any and all comments live!
If you have any comments suggesting updates or changes to the work that was done, please make those updates to your pet's profile or personal profile so that way anyone assigned to working with you in the future can stay informed (not just the pet care technician who completed the recent service).
How can I view a journal report?
You will receive an email/push notification whenever you have a new journal report to view. This is sent usually right after the assigned pet care technician completes the service. If you click on the notification, you'll be directed to the report itself.
If you want to revisit journals from previous visits, or somehow lost the notification for a journal you wanted to view, go to the My Schedule page and locate the service you want to view the journal for. Then, locate and click on the journal icon
inside of the service box. If the journal has already been viewed by you previously, it'll appear in white
.
What are journal maps?
Journal maps are included in all journal reports that are sent to you by your assigned pet care technician. You can view a journal map towards the bottom of a submitted journal report. See the image below to learn about what's shown in journal GPS maps!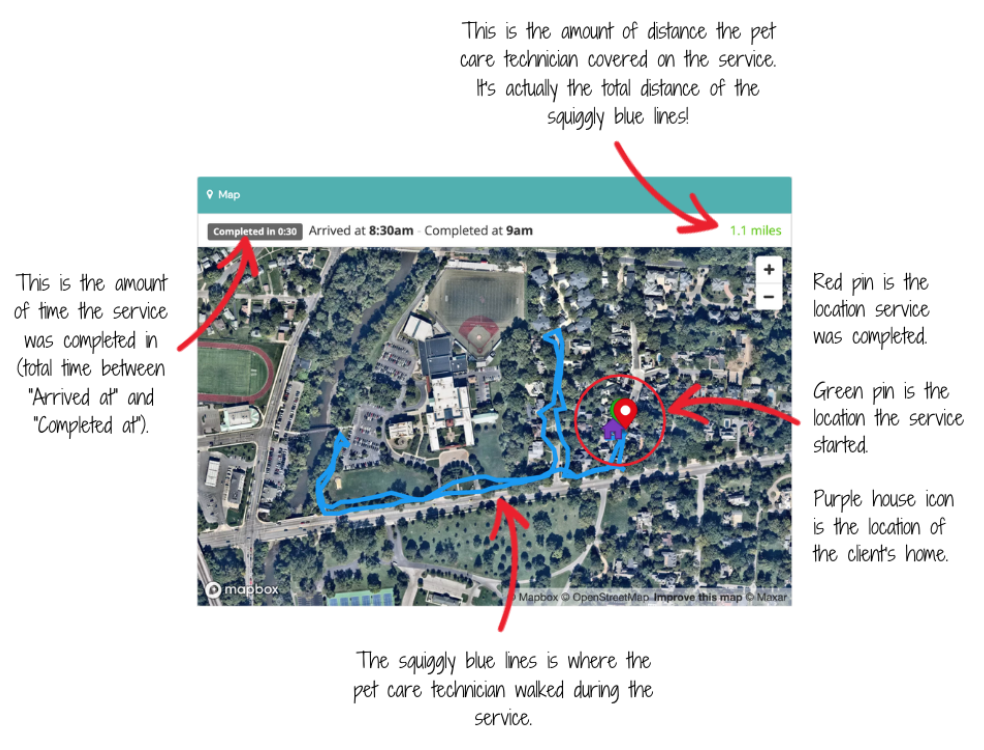 Journal maps are especially useful so that you can see where the pet care technician was located in real-time during the service. Also, if you've scheduled a dog walk with us, you can easily see the route/distance in which the pet care technician walked!